AF&PA Announces Better Practices, Better Planet 2030: Sustainable Products for a Sustainable Future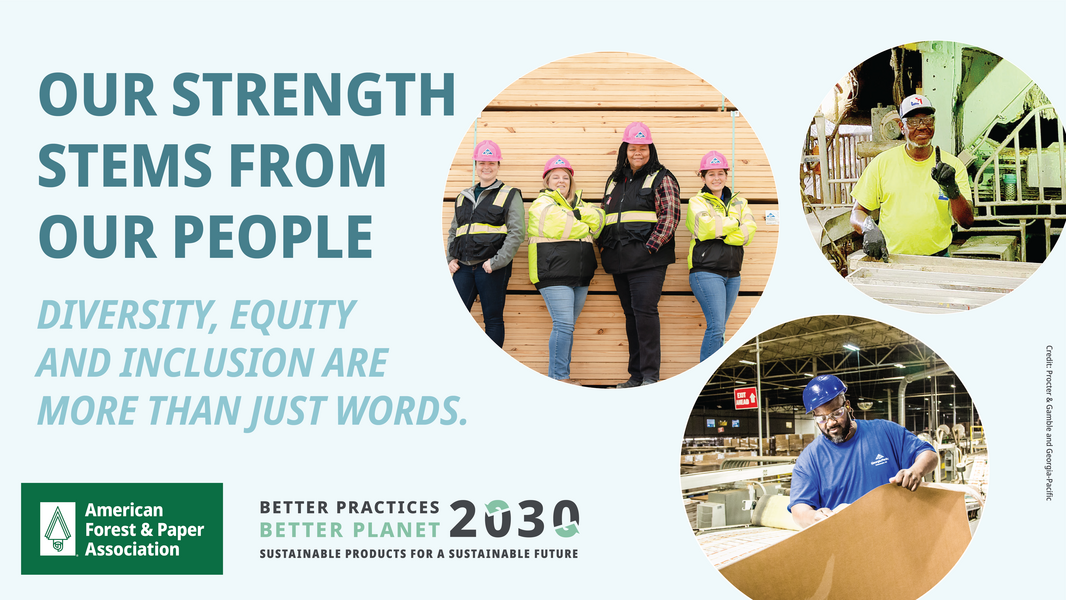 CONTACT: Tim Ebner / Jamie Tiralla
(202) 463-2587, comm@afandpa.org
WASHINGTON — Continuing its leadership in sustainability, the American Forest & Paper Association (AF&PA) today announced Better Practices, Better Planet 2030: Sustainable Products for a Sustainable Future, a new set of sustainability goals for the paper and wood products industry.
"We have been and will continue to be a leader in sustainability," said AF&PA President and CEO Heidi Brock. "The paper and wood products industry was one of the first U.S. manufacturing industries to adopt quantifiable sustainability goals back in 2011, and today these new ambitious goals will build upon that success in the decade ahead."
Better Practices, Better Planet 2030 advances the industry's comprehensive sustainability record over the last decade and includes a transparent reporting process for achieving each goal. 
"Sustainable practices are at the foundation of this industry, which manufactures essential and innovative products used by millions of Americans each day, from renewable resources," said Graphic Packaging President and Chief Executive Officer and AF&PA Board Chair Mike Doss. "We have a strong track record of delivering on sustainability commitments and these goals will guide our progress further into the future."
The five Better Practices, Better Planet 2030 sustainability goals include reducing greenhouse gas (GHG) emissions; advancing a circular value chain through the production of renewable and recyclable products; striving for zero workplace injuries, as well as reducing serious injuries and fatalities (SIFs); driving water stewardship throughout manufacturing operations; and more resilient U.S. forests.
To date, AF&PA members have met or exceeded many of the sustainability goals outlined in Better Practices, Better Planet 2020, launched in 2011. Those achievements include a 23.2 percent reduction in GHG emissions; 13.3 percent improvement in energy efficiency; 38.4 percent reduction in workplace injuries; and 12 percentage point increase in wood fiber procurement from certified forestlands. The final Better Practices, Better Planet 2020 report will be released this fall.
"Importantly, our strength as an industry stems from the diversity of our people," Brock said. "The paper and wood products industry fosters and promotes a diverse, equitable and inclusive workforce by uniting people from different backgrounds, experiences and perspectives to work in partnership."
Better Practices, Better Planet 2030 reinforces the industry's values with a statement of principles on diversity, equity and inclusion (DE&I), helping AF&PA advance DE&I in the paper and wood products industry and facilitating an exchange of members' ideas and information.
For more information on AF&PA's sustainability leadership and the defined set of Better Practices, Better Planet 2030: Sustainable Products for a Sustainable Future goals, visit: afandpa.org/2030