Paper and Wood Product Industry Supports Learning Opportunities for Employees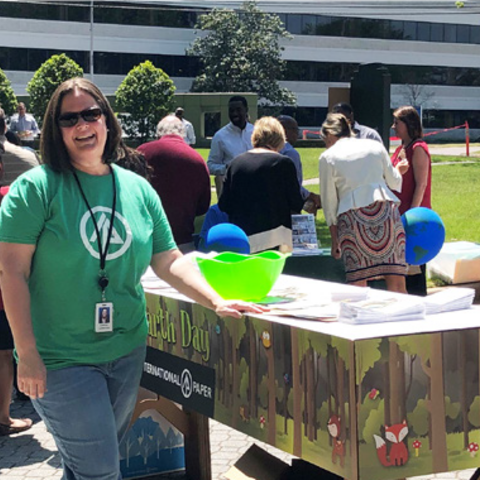 Paper products touch our lives daily.
Whether it's a tissue to blow your nose, the paper cup that holds your morning coffee or the box that delivers your online order to your front door, paper products manage to make their way into our routines.
For Courtney Hager-Pugh, Internal Sales and Supply Chain for Recycling and Recovered Fiber at International Paper, paper has been part of her life since she can remember.
"My father was in accounting for the box business, so I grew up around box plants and mills," she noted. "I wanted to work for the company that had supported our family growing up, where I knew the employees were treated well, and there were many opportunities to learn and grow."
As the industry supported her family, Hager-Pugh pointed out the job prospects and opportunities the industry has to offer women, especially those looking to elevate themselves in leadership positions.
"Most jobs in the paper and wood products industry allow you to do more than just sit behind a desk all day. You have the opportunity to be hands-on with your teammates, suppliers, customers and vendors," she said. "There are several fantastic female leaders in the paper and wood products world. We have women plant and mill managers who consistently show positive results in safety, engagement and earnings to the bottom line."
She added, "being a woman in the industry allows me to bring a diverse viewpoint to a historically male-dominated industry that helps drive innovation and growth."
Hager-Pugh also shared that the industry is a place where she can continue to grow and learn each day.
"The most enjoyable part of my job is being able to work with such a diverse group of people. From peers to managers to our senior lead team – the people in all of those roles are what make me excited to come to work each day. I am constantly learning new things from my co-workers whether it is about manufacturing, logistics, supply chain or their business acumen and style with dealing with people," she said.
While Hager-Pugh continues to advance her knowledge in the paper and wood products industry, she pointed out that there is more to share about the sustainable nature of our industry.
"From the recycling plants we have to the steps taken to our forest stewardship, we have an exciting story to share not just now but into the future. There is a carefully thought-out supply chain that encompasses sustainable operations, renewable solutions, healthy and abundant forests, and thriving people and community involvement," she said.