AF&PA Validates Paper Padded Mailers Recyclable
CONTACT: Tim Ebner  
comm@afandpa.org 
Image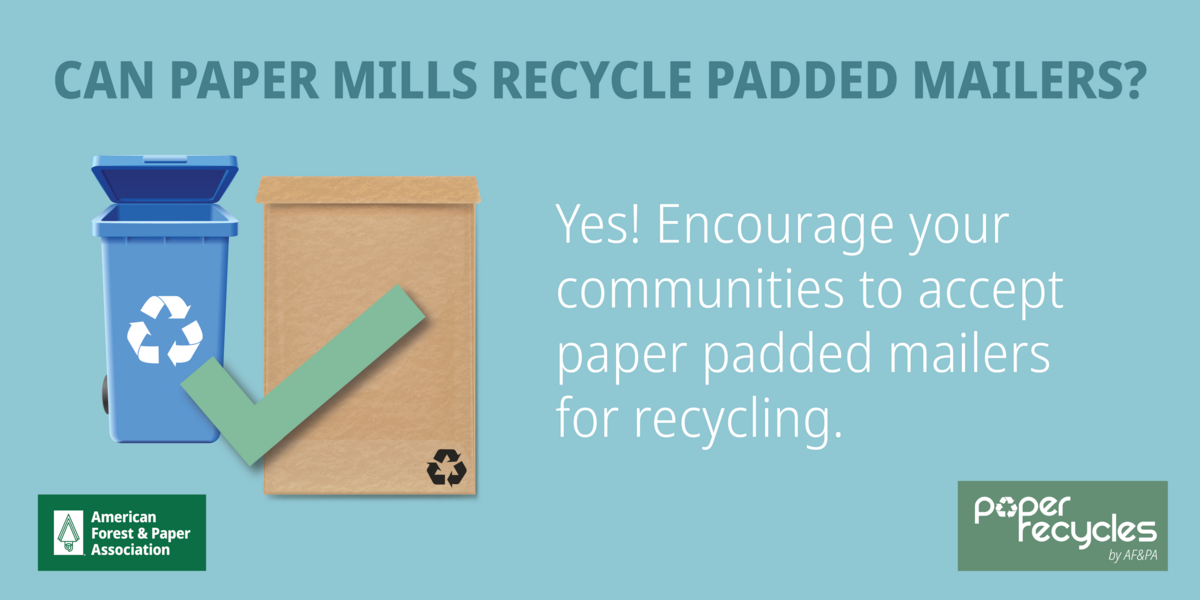 WASHINGTON – The American Forest & Paper Association (AF&PA) today released new industry guidance aiming to give consumers confidence on the recyclability of paper padded mailers.
The guidance resulted from an AF&PA membership-wide survey that found paper padded mailers are widely accepted at member mills across the country. Paper padded mailers are made using four layers of paper and cushioning as an alternative to other options.
"These new and innovative paper padded mailers are recycled at paper mills throughout the country," said AF&PA President and CEO Heidi Brock. "We encourage local communities to update their recycling guidance to explicitly accept paper padded mailers, giving consumers the confidence they need to recycle this packaging either at curbside or drop-off locations."
In a recent membership-wide survey, AF&PA members representing 85 percent of total member consumption of mixed paper and 83 percent of old-corrugated containers (OCC) accept padded mailers for recycling.
"Our industry is stepping up to deliver sustainable and innovative packaging, meeting consumer needs," Brock said. "These paper padded mailers help advance the broader circular value chain because they are made with renewable materials, are recyclable and result in recycled fibers that can be used again to make new products."
For more information about the recyclability of paper padded mailers, including AF&PA's Paper Padded Mailer Statement, visit afandpa.org/what-were-doing.