How to Recycle After Valentine's Day
Image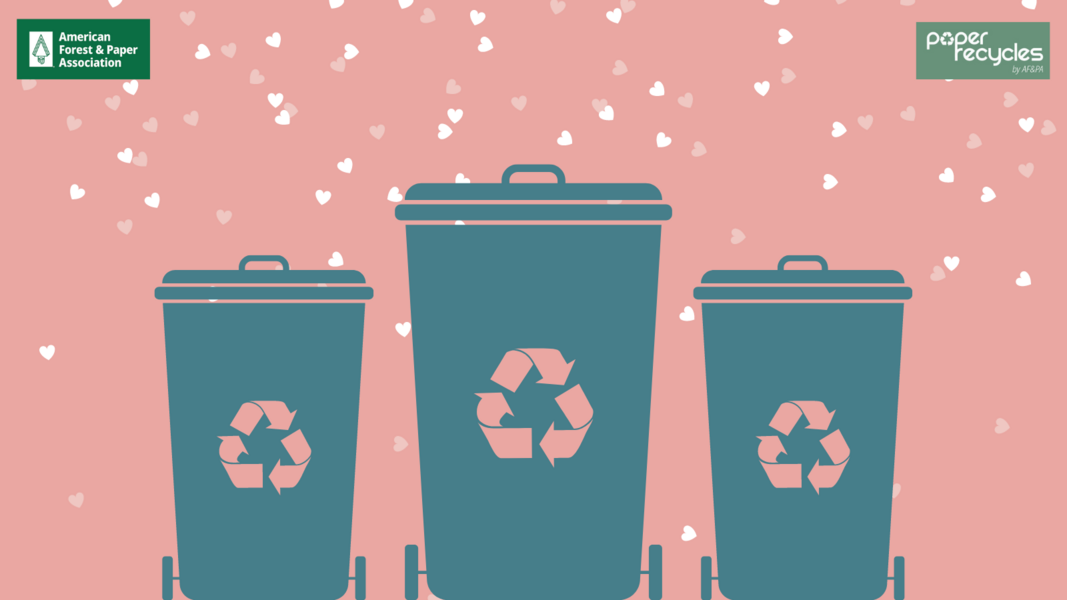 Love may be a battlefield but paper recycling doesn't have to be. Whether you're celebrating Valentine's Day with your loved ones, your friends, your pet or celebrating you, you might be receiving things you don't know how to recycle. 
Never fear, we're here to help you with the greatest love story of all time: the recycling bin and your paper products. They're a match for the ages. Always be sure to check your local recycling guidelines before recycling.
Recycling Valentine's Day Cards
Cards come in all shapes and sizes. They could be a masterpiece of art or have 30 googly eyes and stickers. Someone could have spent hours agonizing over the right one or rushed because they forgot. If you're ready to part with your card, here's what you need to know:
Greeting cards and envelopes made of paper are usually okay to recycle. 
Cards that are covered in glitter, stickers, googly eyes or made from photo paper cannot be recycled. 
Don't worry about removing the stamp from the envelope.
Recycling Boxes
Valentine's Day comes with boxes of all shapes and sizes. They could protect your online flower order, the chocolates you ate in one sitting (we won't judge) or a piece of jewelry. Here's what you need to know about recycling your different boxes:
Cardboard boxes can go right in the recycling bin.
Candy boxes that are all paper and don't have any other materials in them are okay to recycle. 
Boxes that have foil decoration or layer may be a recycling challenge, so we recommend you check locally. 
Jewelry boxes are usually okay to recycle as long as any non-paper materials are removed.
Did you get a box of candy conversation hearts? You can toss the box in your recycling bin after you eat all the candy.
Recycling Gift Wrapping
Surprised with a present wrapped in red or pink wrapping paper? Received something in a gift bag? Here's what you should know before recycling:
All paper gift bags can be put in the recycling bin. 
If your paper gift bag has rope handles, glitter or beads, those things need to be removed first.
Gift bags made with other materials should be reused if you can. Check your local area to see if they can be recycled or dropped-off. 
Wrapping paper can be recycled in many areas if it's all paper. How to tell? Do the scrunch test. If it stays tight in a ball, you're good to go.
Ribbons and bows should be reused. While pretty, they're often not accepted for recycling.
Recycling Decorations and Artwork
We won't tell if you're ready to part with your child's artwork. If you recycle it, it can be turned into a new box that they can make a spaceship from. Here's what to know before recycling artwork and decorations:
Artwork that has crayon, marker or pencil on it is okay to put in the recycling bin.
If the artwork has macaroni, lace, a lot of stickers, glitter or googly eyes, these can't go in the recycling bin.
Paper heart decorations are the same as artwork.
Crepe paper usually isn't accepted for recycling but check locally as it might be in your area.