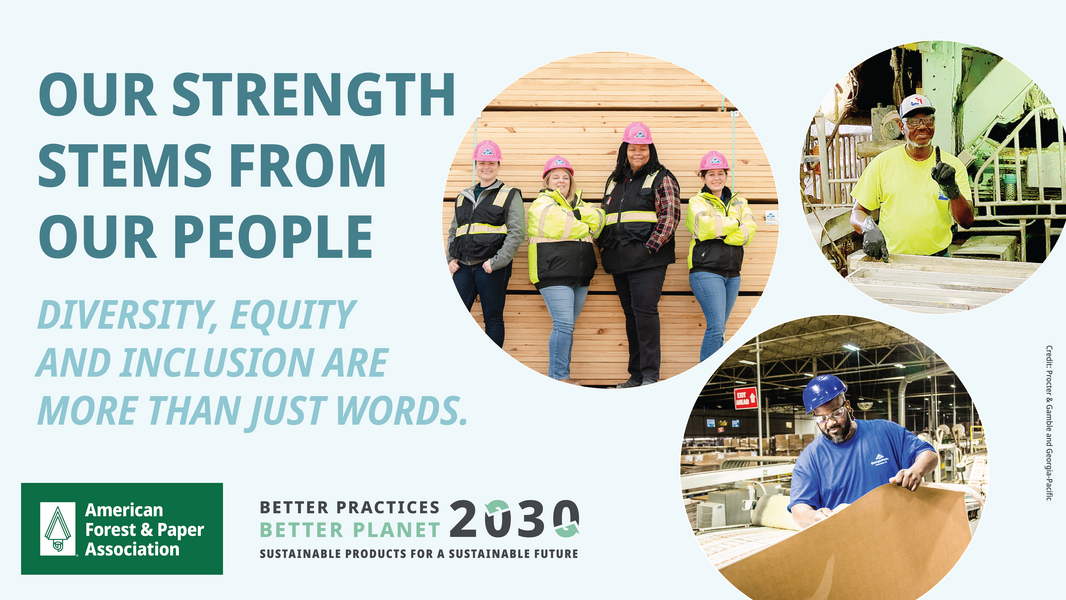 This commitment advances DE&I in the paper and wood products industry and is critical to our success on key initiatives such as sustainability.
Our association recognizes that our strength stems from people. AF&PA is committed to positively impacting diversity, equity and inclusion while also advancing the essential role the industry has in local, regional and national economies.
We will support the advancement of diversity, equity and inclusion by facilitating the exchange of member ideas and information to help:
Explore programs and external partnerships to improve awareness of opportunities and increase retention and growth of all diverse individuals with a variety of backgrounds, experiences and perspectives to drive productivity and innovation.
Contribute to the well-being of communities in which we live and work through initiatives that increase economic and social equity and inclusion, and support career development and advancement for all diverse groups.
Promote supplier diversity including, for example, procuring timber from members of the Sustainable Forestry and African American Land Retention Network, and certified Minority/Women-owned Business Enterprises.
Build awareness, leveraging the trust in our products, brands and companies, to explore barriers that hinder the advancement of diversity, equity and inclusion in our society and the steps we can take to overcome them.