Better Practices, Better Planet 2030: Sustainable Products for a Sustainable Future
AF&PA has established five quantifiable sustainability goals that the industry aims to meet by 2030.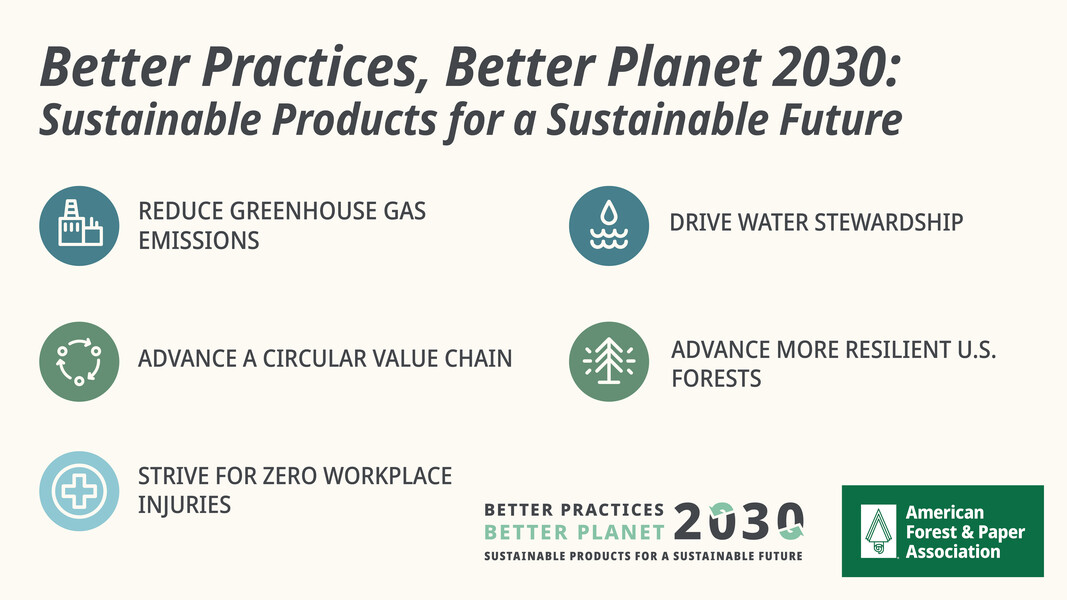 AF&PA recognizes the ongoing challenges of our changing climate and our industry GHG goals reflect our commitment to reducing emissions. AF&PA members have already reduced GHG emissions by more than 23% from the 2005 baseline, surpassing our Better Practices, Better Planet 2020 goal.
Our 2030 goal to Reduce Greenhouse Gas Emissions will advance our industry further with commitments to:
Reduce total Scope 1 and 2 GHG emissions intensity 50% by 2030 from a 2005 baseline
Establish a goal by 2025 for relevant Scope 3 emissions
Goal: Advance a Circular Value Chain
The paper and wood products industry has an inherently circular supply chain from the replanting of trees that supply fiber and enhance the environment to recycling paper and packaging that is turned into new products. Our 2030 goal to Advance a Circular Value Chain Through the Production of Renewable and Recyclable Products will help strengthen the role our industry plays in the circular economy.
AF&PA members will meet evolving customer and consumer needs while improving the sustainability of the industry's products through:
Innovating manufacturing processes, products and packaging
Increasing the utilization of recycled fiber and wood residuals in manufacturing across the industry to 50%
Increasing the percentage of our products that are recyclable or compostable
Collaborating with stakeholders and educating them on the contribution/value of renewable materials
"Goal Zero" is more than a target. It's a mindset. Worker safety is a top priority for AF&PA members. Over the last decade, the industry has made continuous progress in improving worker safety, surpassing our Better Practices, Better Planet 2020 goal.
Our 2030 goal, Strive for Zero Injuries, Emphasizing Continual Progress on Reducing Serious Injuries and Fatalities (SIFs), aims to achieve even more by focusing on identifying and preventing SIF precursors.
In the decade ahead, AF&PA members will:
Recommit to the aspirational goal of zero injuries
Implement an ongoing program to prevent serious injuries and fatalities (SIF) at all member company pulp and paper mills
Water is a critical aspect of the paper manufacturing process. AF&PA members commit to develop and use tools appropriate for the pulp and paper industry to increase water stewardship.
Since 2005, AF&PA members have reduced water use by nearly 7%. Our 2030 goal to Drive Water Stewardship Throughout Our Manufacturing Operations will expand and further our water stewardship efforts. Our members commit to:
Identify and develop potential industry-specific tools by the end of 2021 that include best practices to promote water stewardship within a local context
Begin deployment during 2022-2023 of industry-specific tools to identify needed revisions
Set goals for increasing member use of the tools by 2030
AF&PA members have long been committed to sustainable forestry. Our 2030 Goal: Advance More Resilient U.S. Forests furthers our efforts by:
Enhancing the diverse values provided by U.S. forests, such as water, carbon, biodiversity, recreation and forest products by:

Supporting conservation and restoration programs and initiatives
Engaging in partnerships and investing in research, outreach and education
Promoting sustainable forest management practices
Committing to increased supply chain transparency regarding responsible sourcing
As part of Better Practices, Better Planet 2030, AF&PA members will also continue their commitment to procure wood fiber through certified sourcing and report certification-based metrics.
Advancing Diversity, Equity & Inclusion in the Paper and Wood Products Industry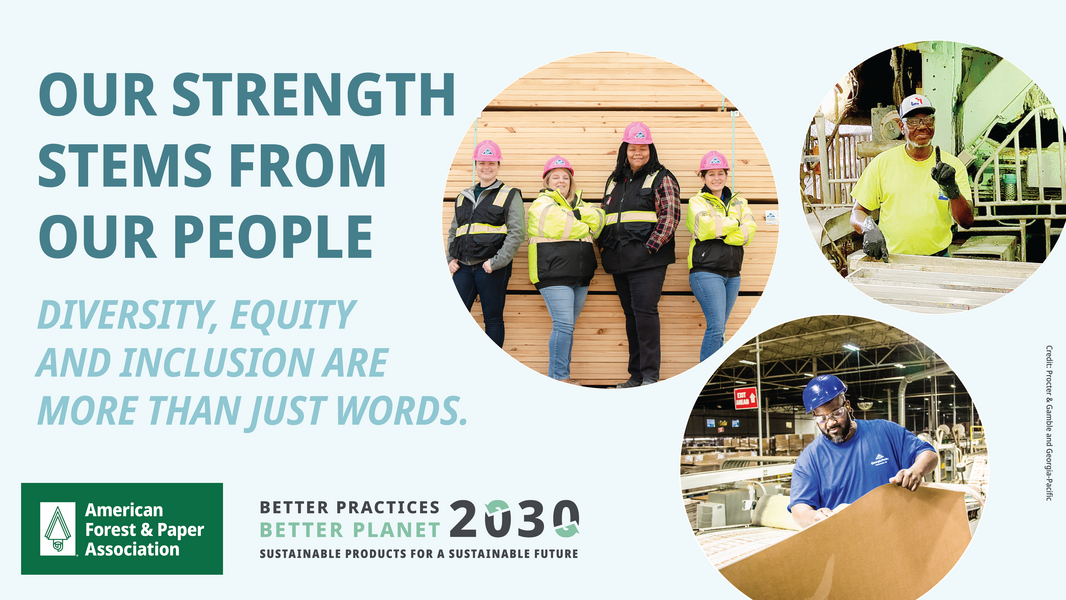 Along with our Better Practices, Better Planet 2030 sustainability goals, AF&PA released a statement of principles on diversity, equity and inclusion (DE&I). This commitment advances DE&I in the paper and wood products industry and is critical to our success on key initiatives such as sustainability.
Our association recognizes that our strength stems from people. AF&PA is committed to positively impacting diversity, equity, and inclusion while also advancing the essential role the industry has in local, regional and national economies. We will support the advancement of diversity, equity and inclusion by facilitating the exchange of member ideas and information to help:
Explore programs and external partnerships to improve awareness of opportunities and increase retention and growth of all diverse individuals with a variety of backgrounds, experiences and perspectives to drive productivity and innovation.
Contribute to the well-being of communities in which we live and work through initiatives that increase economic and social equity and inclusion, and support career development and advancement for all diverse groups.
Promote supplier diversity including, for example, procuring timber from members of the Sustainable Forestry and African American Land Retention Network, and certified Minority/Women-owned Business Enterprises.
Build awareness, leveraging the trust in our products, brands and companies, to explore barriers that hinder the advancement of diversity, equity and inclusion in our society and the steps we can take to overcome them.