Spotlight: Women in the Paper and Wood Products Industry from Essity and Georgia-Pacific
This month is Women's History Month, and our industry employs many inspiring women who develop, manufacture, design and market the products we rely on. Women are an invaluable piece of the paper and wood products industry, and we are excited to share with you their stories.
This spotlight will feature two women who are currently working in the industry, Carrie Shapiro, Vice President of Dixie® Manufacturing at Georgia-Pacific and Tracey Driessen, North America Environmental and Risk Manager at Essity.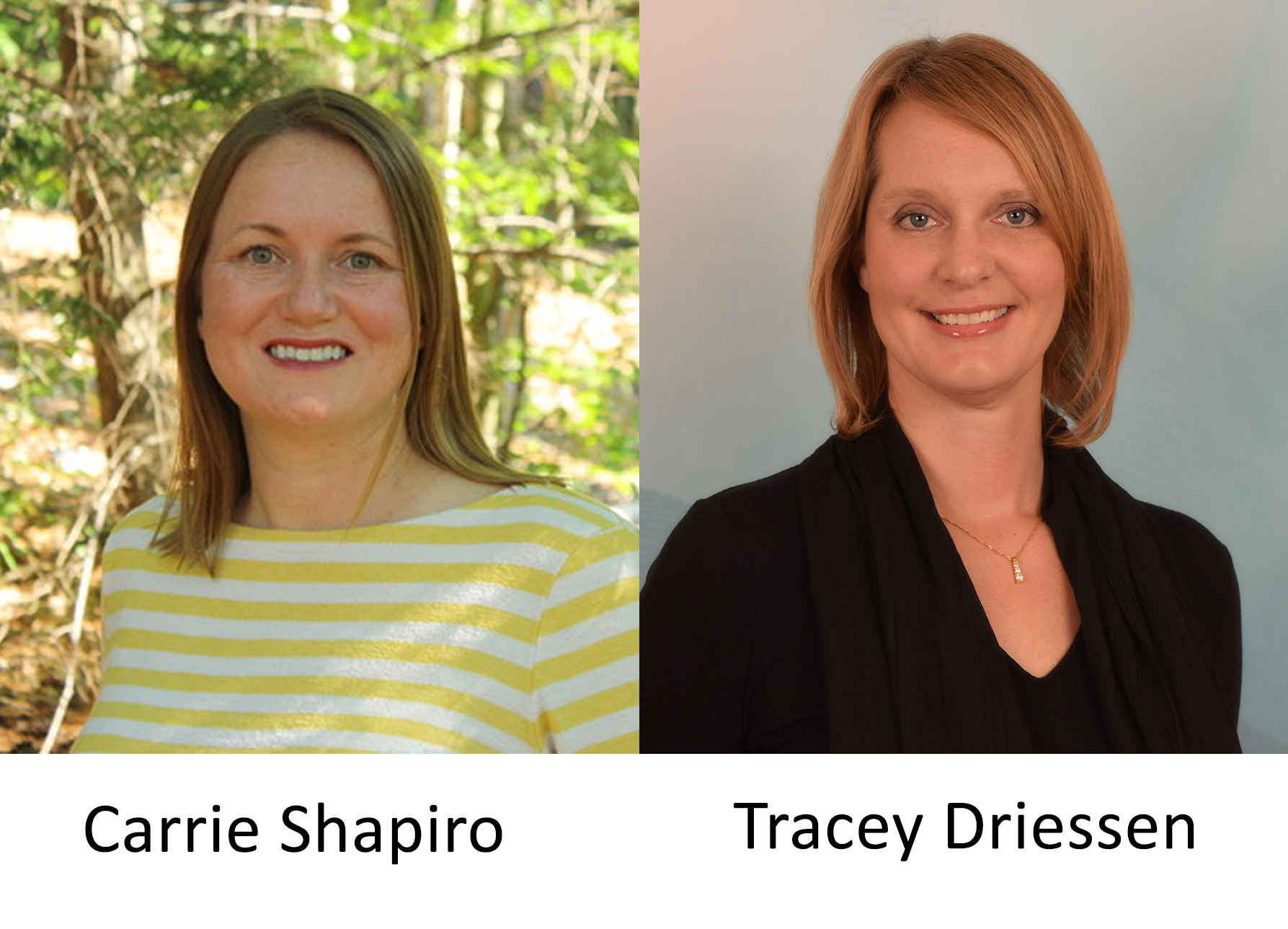 Why did you get into the paper and wood products industry?
Carrie: My first job out of college was with a company that focused on manufacturing folding cartons for the beverage industry. At the time, the supply chain was integrated into a paper mill, so it was a great opportunity to learn the process from tree to consumer. I found it exciting to work with well-known companies like Coca-Cola and Anheuser-Busch, and liked how we helped bring their products to bear with new and innovative packaging.
I graduated right after the dot-com bubble burst, and many entry-level offers were disappearing. Honestly, I was thrilled to have a job first and foremost. The paper industry offered stability and steadiness that felt like a warm hug after getting out of engineering school. It was a double bonus that I could work at a manufacturing site inside the Atlanta city limits. I quickly discovered how complex and dynamic this industry was. There were many problems to solve and even more opportunities to create value. I was hooked early!
And here I am 20 years later, still learning something new every day. My current role at Georgia-Pacific as vice president of Dixie® manufacturing is the culmination of the many roles that I have held in this industry. It has been a blast to have the opportunity to apply so much of that learning to lead an organization full of rock star people.
Tracey: I started to realize my passion for the environment during high school . I was considering different environmental degrees and career paths when one of my older brothers, a college student studying electrical engineering, pointed me in the direction of environmental engineering. He gave me a book from his university describing the different engineering disciplines and pointed out the description of environmental engineering. I had never heard of environmental engineering before, nor did I realize that civil engineering - a much more well-known disciple - involved so much environmental work. Between the degree descriptions provided to me and strong encouragement from my family, I decided to give it a try. During my time in college as a civil and environmental engineering student at the University of Wisconsin, I participated in several internships and a co-op program, which helped me narrow my career path towards working as an environmental engineer. During my co-op period specifically, I could see how having an environmental role in the industry could have a direct positive impact on the environment in many ways. Being a native of the "Paper Valley" area of Wisconsin, and coming from several generations of papermakers (even my high school mascot was the Kimberly "Papermakers"), the paper industry was a natural draw for me as somewhere I could have a successful career while making a positive impact on the environment through my work.
What does a woman's perspective bring to the table?
Carrie: Diversity of thought, experience and perspective is important at any table. Certainly, this doesn't just apply to women. In my experience, adding any diverse perspective to a homogenous team can unstick everyone's thinking and really help challenge the status quo – bringing about new and fresh ideas and a more realistic understanding of the current state.
As an example, we hired a new plant leader in one of our Dixie® sites. She brought not only a wealth of industry experience but also tremendous enthusiasm and energy for improving the plant's performance. Her path was one of engaging the workforce to better their own operation. Her diverse perspective and effective leadership quickly brought about transformative progress for the site.
Tracey: It's not so much male vs. female to me, but instead what diversity brings to the table.  People bring their life experiences forward with them into their careers; the more diverse the thought pool present, the more holistic the solutions. If everyone in the room has similar backgrounds and the same areas of expertise, the solutions are bound to be narrow in scope.  Embrace diversity on your teams and you will see more positive outcomes!
Why should women be part of this industry? How is being a woman an asset to the industry?
Carrie: The paper and wood products industry wants to attract the best talent to lead innovation and change – and women are a part of that conversation. Every element of the supply chain in our industry is changing and transforming. As such, we will continually be challenged to work differently to meet the demands of our customers, be more cost-competitive and drive innovation. Georgia-Pacific recognizes that working differently means the makeup of our teams must look different, too. When I have added women leaders on my teams, they have brought the power of the human element to the forefront by engaging and empowering their collective workforces. Many women are naturally wired to care for others – enabling them to lead from a position of support and encouragement. The best way to meet the new demands of this industry is to engage our workforces in solving problems more efficiently and effectively.
Tracey: I found a place in this industry that is very rewarding and drives me to be my best every day. I love that the industry is fast-paced and continuing to improve and evolve. Whether you are interested in the manufacturing aspect, innovations in technology, health and safety, environment and sustainability, or the business side, such as sales and marketing, finance and accounting, this industry is so multi-faceted that I believe almost anyone—male or female—can find a fit between their interests and needs of the industry. Further, women should not shy away from the paper industry simply because of gender. I have never felt unwelcome by the paper industry because I am female; in fact, the paper industry feels like a big extended family that has done nothing but welcome me. Yes, there are times that I am the only female in the room, but it doesn't hold me back, nor do I feel it makes my male counterparts uneasy in the slightest. Again, I don't see it as women specifically being an asset to the industry, but instead, what diversity, in general, brings as the asset. The most productive project teams that I have been a part of, or led, included a mix of men, women, ethnicities, co-op's/new graduates and employees with 30-plus years of experience.  A diverse working group is what brings out the best conversations, the best ideas and spurs momentum.
What advice would you give to women looking to elevate themselves into leadership positions?
Carrie: What I would say to anyone is say "yes" to opportunities that come your way even if it is scary or you don't think you are ready. It may be an exciting project, a customer visit, a new role, an increased responsibility, or a chance to work with a different team. These opportunities allow you to learn so much about your company, the industry, innovations and technologies, and enable you to build a strong network of people inside and outside of your company. A broad spectrum of roles and responsibilities will serve as a great foundation for leadership positions.
Early in my career, I was offered an opportunity to lead a project in a plant in Canada in February. The thought of freezing was less daunting than spending time away from my family. My son was only three at the time. My husband encouraged me to take it and assured me that he would keep the home fires burning. It ended up being a watershed month in my career. I got a crash course in leading others, plant operations, project management and empowering a team. Because my time was limited, I learned that every moment was an opportunity. Every interaction was a chance to lead and help others be the best version of themselves and apply those strengths to create value for their teams. Capitalizing on small chances to lead can pave the way for bigger leadership opportunities.
Tracey: Don't shy away from new challenges and be resourceful. You do not need to be an expert at everything - no one is - but know where to go and who to talk to when you need to learn something new.
Be confident yet flexible. Not every decision you make will turn out as planned, and that is OK.  When that happens, adjust the path as needed, keep your head high, and add it to your collection of learnings that you take along on the journey.
Keep a balance. Accept that "it is ok" to have limits and ask for help:
Work smarter, not longer—it isn't the long hours you put in that people will respect, but the results that you bring. With that, set limits on your day. It is OK to leave when you need to—the work will still be there tomorrow, while today, including that soccer game or school concert, is not coming back.
It is OK to delegate at work and in your home. I think this is especially hard for women to accept at home, as so many of us were raised by moms who were the primary homemakers. But know that it is OK for someone else to clean the house. It is OK to take advantage of carpools. And it is OK for kids and spouses to pitch in. It does not make you a failure to not do it all yourself, but instead, it makes you a successful manager of the home front as well.
Take time for yourself. Find an hour every day that is yours. It isn't for work, and it isn't for home. Go to a fitness class, go for a walk, read, whatever it is that makes you, "you." Your body and mind will thank you, as well as everyone else, because you will be happier, healthier and more productive.