Children's Book Spotlights Forest Careers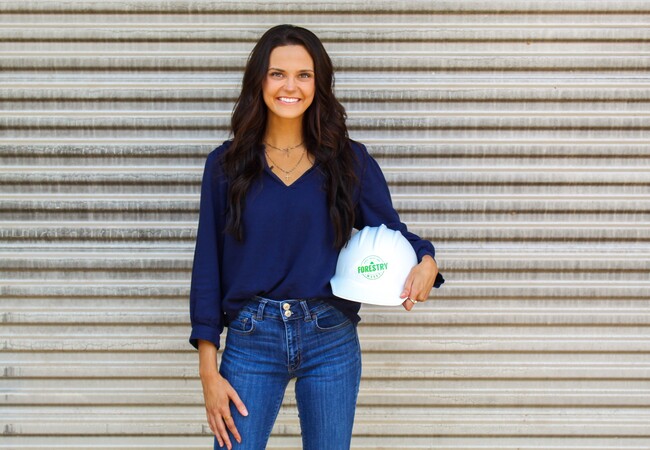 Books have the power to unlock imaginations, expand worldviews and even excite child-like wonder. That's how the story goes in Lucy Meets a Logger, a new children's book published by author Stephanie Fuller.

In the book, Lucy goes on a walk in the woods where she meets new friends, and they teach her about sustainable forestry.

The book is a page-turner and a window into a career filled with opportunities. Forest-based jobs offer potential for young people interested in science, technology, engineering and math fields, as well as other opportunities like accounting or design

Fuller knows the impact of forest-based careers firsthand. She helps educate others about forestry, especially young people as the director of promotions and economic development for the Forest Workforce Training Institute (ForestryWorks). ForestryWorks is a foundation formed to conduct a workforce development program for the forest industry.
"When you are able to educate someone about the careers in our industry, it not only allows them to understand that there is a multitude of high-paying and rewarding careers in the industry, but also the human aspect of our industry as well," Fuller said. "Paper and wood products professionals are members of their communities who care for their families, their work and their neighbors."
Much of Fuller's work focuses on creative educational components, and some of it centers around early childhood through 8thgrade levels. That gives her the ability to share her story too. 
"The most rewarding aspect of my job is seeing the work I do directly to help the industry in which I grew up. I am the daughter of a logger and a 4th generation forestry professional. For most people in the industry, their job is not just a job; it is a way of life," she said. "Being able to work in a role where I can take that insight and create solutions is extremely rewarding."
For Fuller, a job well-done might be helping a student who is graduating from high school and beginning an entry-level forestry position, or it could be placing an equipment operator who came through FWTI's training program onto a logging crew.
Fuller believes these opportunities, and others, are great for students interested in STEM, manufacturing or forestry careers, in general. 
"In our manufacturing facilities, there are professionals employed as engineers, accountants, welders, scientists, millwrights, sawfilers, production line workers, electricians, IT specialists, sales representatives and equipment operators," she said. "Our industry employs an array of professionals with various backgrounds and educational levels. There is a place for everyone."
Fuller also thinks it takes industry leadership to continue advancing workforce development into the future.
Her mission is to build a sustainable pipeline of forest industry professionals through education. That could be early-childhood learners or a higher schooler or college student entering the workforce for the very first time.
"Without a workforce, there would be no industry," she said. "Being able to employ safer and more passionate and efficient workers makes a more sustainable industry. Professionals who are passionate and educated about their work will also be better stewards of the natural resources we manage."
Are you interested in a forestry career?
The paper and wood products industry is a hub of fantastic career opportunities that are well-paying and rewarding. Fuller encourages anyone interested in a forestry career to learn more by visiting www.forestryworks.com.