The economic health of the U.S. paper and wood products manufacturing industry is vital to its sustainable future. AF&PA advocates for policies that allow the industry to remain competitive to manufacture essential, sustainable products for everyday living.
The forest products industry is a major national employer. The industry is among the top 10 manufacturing employers in 43 states. We employ about 925,000 people in the industry and more than 2 million indirect jobs are supported.
EFFECT ON LOCAL COMMUNITIES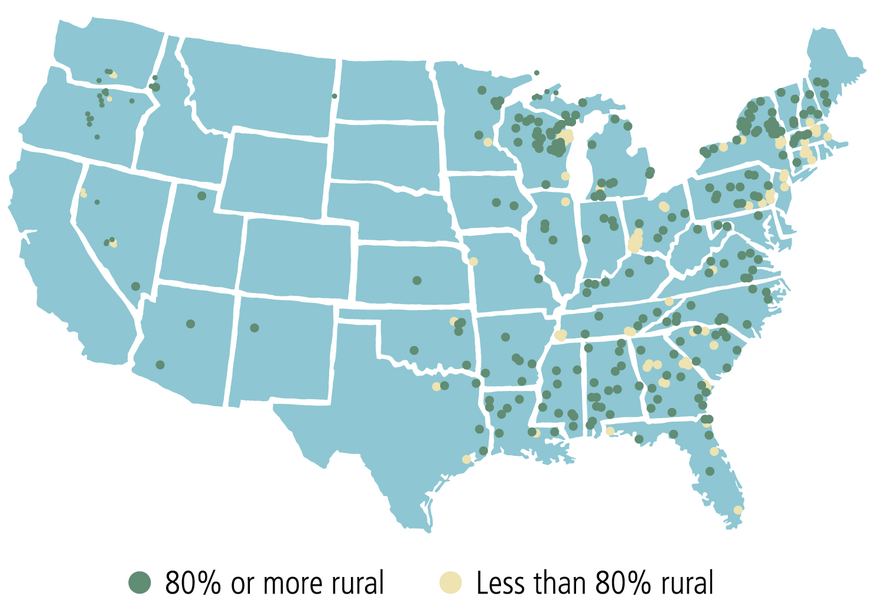 This industry is often the heart of many local communities across the nation. More than 75% of all U.S. pulp and paper mills are in counties that are more than 80% rural. 
CONTRIBUTIONS TO THE ECONOMY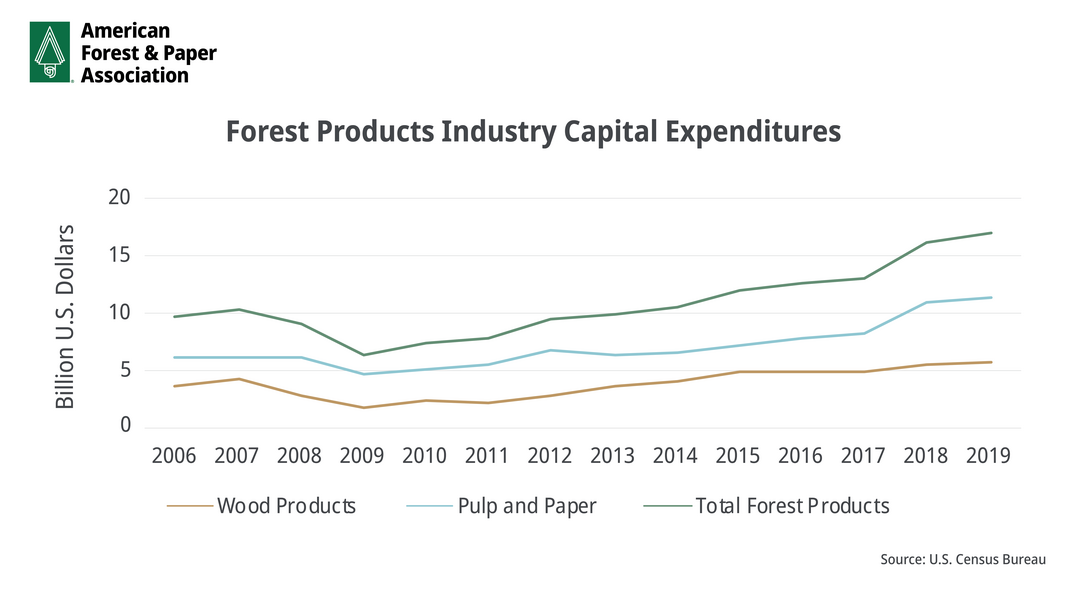 We invest a lot in our mills to help modernize them, upgrade machinery, and in some cases, add capacity. This helps ensure we're responsible and modern manufacturers. 
In 2020, we spent $13 billion on these investments.
Our industry is committed to innovating manufacturing processes as well as our products and packaging. In 2019, we invested $1.25 billion in the U.S. on various research and development projects.
Our industry relies on natural resources to make essential products people depend on. Sustainable practices — forest management, efficient manufacturing, use of renewable bioenergy, water management and paper recycling — define the paper and wood products industry. 
We are dedicated to protecting our environment while also meeting economic and social commitments. A healthy paper and wood products industry goes hand-in-hand with healthy forests.
 
ENVIRONMENTAL STEWARDSHIP ACROSS THE VALUE CHAIN
The paper and wood products industry has made continuous improvements in energy efficiency to produce sustainable paper and wood products. 
By purchasing less energy, switching to less carbon-intensive fuels and using more renewable bioenergy, our members have decreased their greenhouse gas emissions by more than 24% since 2005. 
Since 2000, member mills have achieved major reductions of nitrogen oxides (NOx) and sulfur dioxide (SO2) emissions; two priority air pollutants for EPA and states. 
Our members have increased the amount of wood fiber sourced from third-party certified forestlands. 
And, we are increasing our focus on water management.
See our progress from our latest sustainability report and view our 2030 goals.
 
Innovating Through Design
Our industry is working to increase its contribution to a circular economy. Our foundation is a renewable resource — trees — and we are making more with less, whenever possible. And we're creating innovative new products that best use our resources.
Innovative product design is also helping make sure more of our products are accepted for recycling. Technology improvements and innovations allow our mills to recycle more material.
Responsible Manufacturing
The paper and wood products industry uses every part of the tree responsibly to make essential and innovative products for everyday life.
Leftover materials, like tree bark and liquid bioenergy extracted during the pulping process, are used to make renewable bioenergy to power our mills. After being used, paper and wood products can be recycled or reused. Recycled paper fibers can be reused 5 to 7 times.
Paper and wood products help keep lands forested, store carbon, are biodegradable and support our nation's recycling system.
People are the heart of the paper and wood products industry. The health and safety of workers is a top priority for our industry. We are also committed to making a positive contribution to the lives of our employees and their local communities.
In addition to improving the health and wellness of workers, our members are dedicated to helping their employees achieve their full potential. A majority, 69%, of AF&PA member companies offer support for continuing education and career development.
Our members work with colleges to help develop curriculums that help train the future workforce. A great example is at the University of Maine with their Pulp and Paper Foundation.
Engaging Local Communities
Paper and wood products manufacturers are often the largest employers in their communities. As a result, local economies can be highly dependent on these companies. 
Some of the ways AF&PA members give back:
Donating critical supplies for natural disasters and other events like the COVID-19 pandemic
Charitable giving programs and corporate foundations
Engaging with local schools to promote sustainable forestry, careers in manufacturing and education about the industry
Promoting supplier diversity including, for example, procuring timber from members of the Sustainable Forestry and African American Land Retention Network, and certified Minority/Women-owned Business Enterprises.