How Does the Paper Recycling Process Work
Image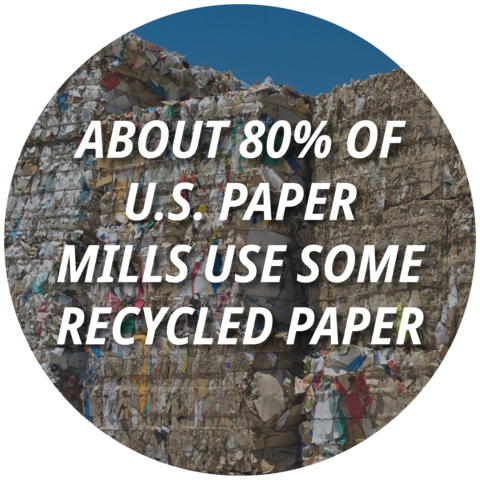 You put your recycling in the bin. You drop it at the curb or take it to your local drop-off. Then you wonder, is my paper actually getting recycled?
Yes! Recycled paper is used to make new products such as paper bags, toilet paper and all different kinds of boxes. For example, the box your cereal or toothpaste came in, bakery boxes for donuts and the trusty cardboard box arriving at your door.  
In fact, about 80% of U.S. paper mills use some recycled paper to make new and innovative products.
Here's how the process works:
It begins at any number of locations, including community curbside programs, drop-off centers, schools or offices. This is when you fill the recycling bin with accepted materials.
 
After paper is collected, it goes to a Materials Recovery Facility (MRF).  It's loaded on a conveyor belt and contaminants are removed. 
 
Next, recovered paper is separated and baled. It's transported to a paper mill where the recycling process really begins.
 
At the paper mill, the paper bale is loaded into a pulper, which looks like a giant blender. The paper is mixed with water and other ingredients, then it's churned and broken down. Things like tape, labels and staples are screened out.
 
From there, this slurry of fibers is screened for further cleaning. As it dries, it is formed into rolls of paper — newly recycled paper.
Image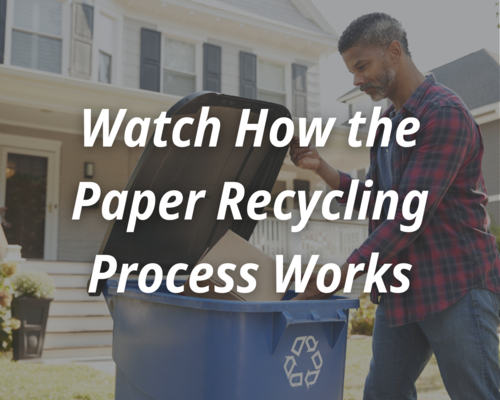 Follow along as industry experts walk you through the recycling process and explain where your paper products might end up.

Image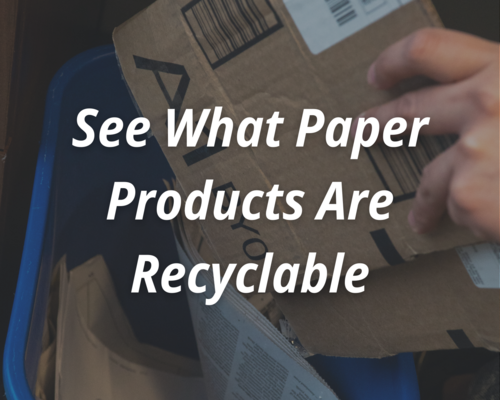 You can keep the recycling process going. Keep your paper products dry and clean. And remember, don't wishcycle.
Image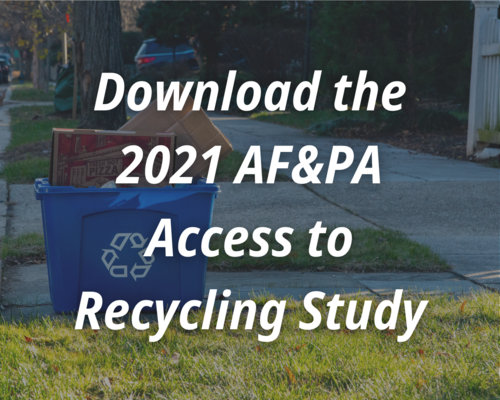 This comprehensive national report tracks and measures the growth of community paper recycling access in the U.S.

PAPER INDUSTRY'S COMMITMENT TO IMPROVING PAPER RECYCLING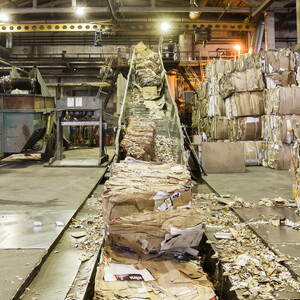 Nearly 70%
more paper recycled
today than in 1990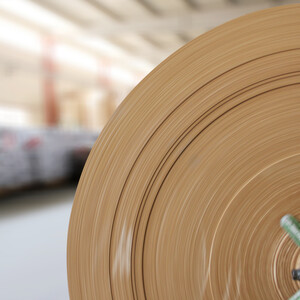 $7B
in mill investments
(2019-2025)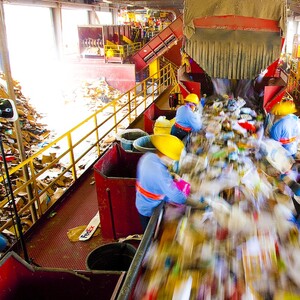 100+ MRFs
owned by the
paper industry
Investing in and improving paper recycling has been an industry priority for decades. AF&PA members are working to advance the circular value chain.
Our industry first set a goal to help improve paper recycling in the 1990s. The recycling rate has doubled since that time.  
Now, we've set a goal to increase the use of secondary materials like recycled paper in new paper products to 50% by 2030.
This means the industry will use even more recycled paper in manufacturing! This goal is part of our Better Practices, Better Planet 2030: Sustainable Products for a Sustainable Future initiative.
We have an ownership stake in the recycling system. AF&PA members own and operate more than 100 materials recovery facilities nationwide. That's where your recyclables are sorted and processed.
Our industry is investing in manufacturing infrastructure. Nearly $7 billion in investments, planned or announced (2019-2025), will use more than 9 million tons of recycled fiber. 
Investments go further than our mills. We're also working with stakeholders on paper recycling education.
Dive Deeper Into the Industry's Investment:
Sustainable practices are the foundation of the paper and wood products industry.
Learn more about the industry's goal to "Advance a Circular Value Chain Through the Production of Renewable and Recyclable Products." 
ADVANCEMENTS IN PAPER RECYCLING AND RECYCLING EDUCATION
Our industry is continuously working to innovate and improve technology, especially when it comes to recycling. Recycled paper products are a key component of our circular value chain. 
The paper recycling rate has met or exceeded 63% since 2009. Still, about 23% of municipal solid waste is paper and paperboard, according to the EPA. Our members are committed to keeping their products out of landfills.
Our industry is working to capture even more paper from the waste stream for recycling.  Research, outreach and new technologies are helping ensure the products the industry makes can be recycled. 
Dive into AF&PA Sustainability Award winning member projects aimed at improving recycling technology and using more recycled fiber.
Innovating Products From Recycled Paper and Recycling Technology
Georgia-Pacific is developing innovations across the recycling supply chain, including paper cups. 
The innovative Juno Technology is helping to turn trash into treasure. Juno was born from the desire to capture more paper for recycling. 
A small team of innovators developed the idea for the technology behind Juno and saw an opportunity with commercial waste from places like airports, stadiums and office buildings.
These places have a lot of paper-based waste that typically isn't recycled because of food contamination.
Learn more about this exciting, award-winning project and how it is helping to increase paper recycling. And, take a look inside Juno. 
Georgia-Pacific also developed: 
A paper-based mailer that is 100% curbside recyclable through collaboration with a major online retailer.
America's first hot cup made from 100% recycled fiber.
Georgia-Pacific is also working to increase paper cup recycling by investing in recycling infrastructure and partnering with municipalities to increase the acceptance of paper cups in curbside recycling programs.
Adding Technology to Process More Recycled Fiber
New-Indy improved repulping systems at its Ontario, California mill. Repulping is the step in the recycling process where your old cardboard boxes, mail and paper bags get tossed in a giant blender so they can get turned into something new. 
New-Indy added technology to help further screen out contaminants. The improvements led to:
Consuming mixed paper in all products without sacrificing quality
5,500 tons less waste leaving the mill
10,000 tons of mixed paper that would have otherwise gone to a landfill being repulped
Learn how their investment in additional technology helped improve their ability to process more recycled fiber.
Partnering to Amplify that Pizza Boxes Are Recyclable and Paper Mills Want Pizza Boxes
WestRock teamed up with Domino's Pizza and other industry partners to share the good news that pizza boxes are recyclable. 
The project took a four-prong approach: 
Document that paper mills want to recycle used pizza boxes
Study the impact of grease and cheese on recycling
Assess access to pizza box recycling
Launch a public educational portal to spread the word that pizza boxes are recyclable. 
An estimated 3 billion pizzas are consumed in the U.S. each year. That's about 600,000 tons of potential fiber that could be turned into something new. Learn more about this award-winning project and how it's helping to capture more fiber for recycling.
 
Sustainability Award Winners
AF&PA's annual awards program recognizes exemplary sustainability programs and initiatives in the paper and wood products manufacturing industry.