Paper Products and Materials Widely Accepted for Recycling
When it comes to paper recycling, people have questions about what can go in the recycling bin.
Here is the good news. The vast majority of Americans have access to a community paper recycling program. 
According to the 2021 AF&PA Access to Recycling Study, 94% of the U.S. population has access to community recycling programs for paper.
More Americans (79%) have access to residential-curbside programs making it efficient and effective to recycle paper at home – a one percentage point increase from the 2014 study.
At paper mills across the country, recycled paper fibers are used to make essential and sustainable products millions of people rely on every day. 
This includes cardboard, paper bags and pizza boxes, which are successfully recycled every day at paper mills.
Those recycled paper fibers can also be reused 5 to 7 times to make new paper and cardboard products. 
Paper Products Widely Accepted for Recycling
Image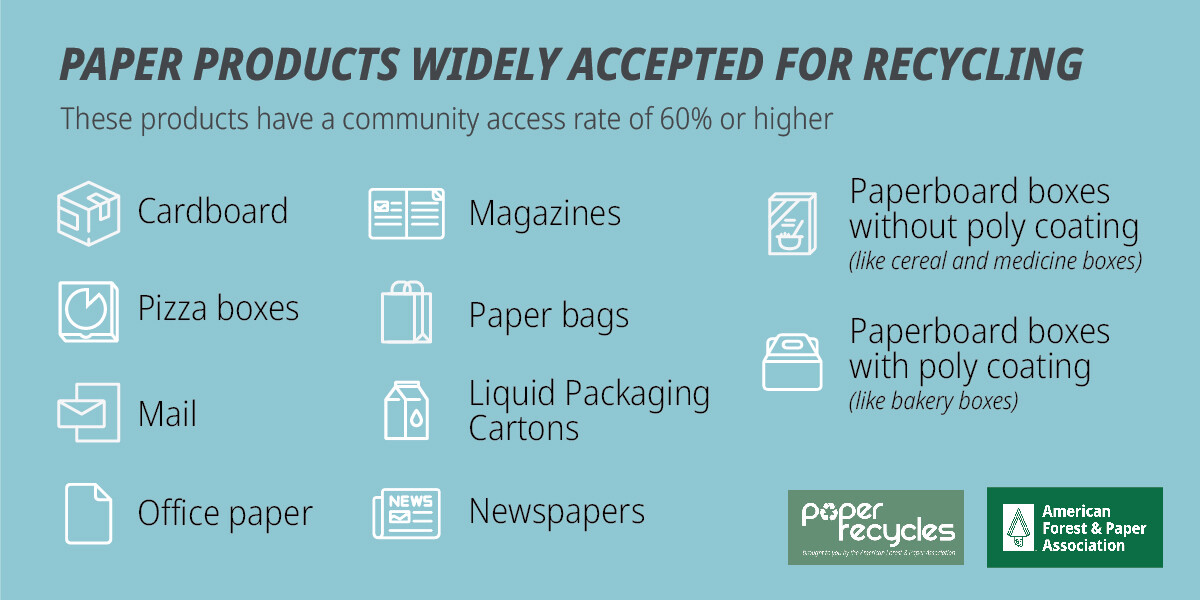 The study found many items which are widely accepted (60% or more of consumers have access to community recycling programs that accept these materials):
Cardboard
Pizza boxes
Mail
Office paper
Magazines
Paper bags
Liquid packaging cartons, like milk or juice cartons
Newspapers
Paperboard boxes without poly coating, like cereal boxes
Paperboard boxes with poly coating, like bakery boxes
Paper continues to be one of the most recycled materials in the U.S. It's also one of the ways our industry contributes to the circular economy.   
We're committed to advancing the circular value chain with our renewable and recyclable products. It's part of our sustainability goals, Better Practices, Better Planet 2030: Sustainable Products for a Sustainable Future.
We're working to meet evolving needs and improving the sustainability of our products by using more recycled fiber in them. We can't do that without the millions who recycle every day.
That's why paper recycling is one of the best ways we as Americans can work together to help protect the environment and further advance the circular economy.